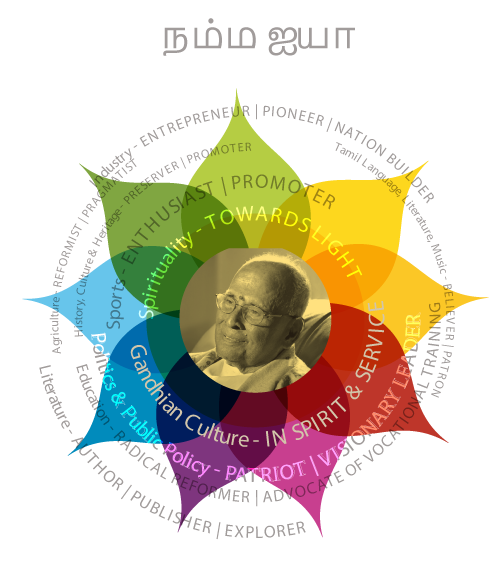 ARUTCHELVAR AYYA AND THE GAME OF CHESS
As the way king of the chess game is simple yet magnificient and multi-dimensional, Dr.N.Mahalingam played versatile roles in his life such as: a great visionary, an elite scholar, an ardent educationalist, a respected nationalist, a zealous traveler, an unrivalled collector of books, a Gandhian, a writer, a philanthropist, a spiritualist, a man of letters, etc. Arutchelvar Ayya as he is affectionately called by everyone, created history by his achievements in rural economic reconstruction and established unmatched leadership in agriculture, public planning and manufacturing sectors through his Sakthi Group of companies. He was the Founder Chairman of the leading educational institution Kumaraguru College of Technology (KCT). Multifaceted Ayya is a passionate Chess player and enthusiast as well..  With his fondest love for this greatest game, KCT takes pride in launching Dr.N.M. Chess Academy to favor and kindle the spirits of aspiring chess enthusiasts and carry forward the service done by our founder to this greatest game. Ayya's contributions, support and his fondest love for this game and the purpose and goals of Dr. N.M. Chess academy is explored in this booklet.
Ayya and his love for Chess:
Ayya's passion-fire for this strategy- board game began in his younger days. He started loving the game and became an avid player quite soon the game was introduced to him. Perhaps, his attraction and involvement in the game was during the later part of his life. The ardent chess lover matched wits with several grandmasters over the board and was a keen follower of the game throughout his life.
Ayya –  The Game Changer:
Ayya became the President of Tamil Nadu State Chess Association in the year 1975. Perhaps, at that time the game of Chess was not so popular and familiar as it was of today.  Ayya in order to popularize the game among the school students, he took the initiative to include the game in Tamil Nadu State Government's approved lists of Games.  After which, he succeeded in popularizing the game across the various states of India and the game started to have more inclined and devoted enthusiasts soon. Following then, Ayya also served as the President of All India Chess Federation from 1985 to 1989. During this time he took various strategical and reformal measures to improvise the game's popularity among students and other citizens of India. When Sri D.V. Sundar, Vice President FIDE, brought to the attention of Dr. N. Mahalingam, that the Chess was not included in the list of games, he persuaded the Department of Youth Affairs and Sports Government of India, New Delhi and got it included,  in the year 1985.
Ayya and his master stroke in the chess-development:
Ayya though spent much of his life in business, gandhian and philanthropic missions, his contributions to his most favorite sport, chess is indistinguishable too.  During 1987, Dr. N M funded the purchase of 200 Chess Clocks by AICF from Germany for  State Associations.  Besides, he has sponsored many IM/GM Tournaments as well as scores of National Championships through his Group Companies. Long before the Central Government brought in a scheme of cash awards for Indians becoming International Masters (IMs) and Grand Masters (GMs), Ayya had introduced such a scheme first in Tamilnadu and subsequently extended it thorough out India when he became the president to All India Chess federation. Ayya not only got incentives from government but also offered it from his own pockets. He was the first person to offer cash incentive to players achieving the titles of International Masters and Grand Masters and this was definitely the master stroke for the growth of this game over decades.
Ayya and his Sponsoring for the players:
Ayya organized many tournaments single handedly  and in these  efforts  his companies also have had a great role to play in the development of Chess in different ways.  Starting with the Sakthi Sugars Limited International Tournament at Madras in 1981 when T.N.Parameswaran became an International Master, his Companies had sponsored Grand Master Tournament providing Indians with valuable opportunities to gain international titles.Dr.N.Mahalingam gave monthly cash grants to numerous promising but struggling chess players and helped them become great players. To name a few P. Leelaram, Raja Ravi Sekar, S.V.Natarajan, V.Hariharan, S.Vijayalakshmi, Arthie Ramaswamy and also the World Chess Champion Sri Vishwanathan Anand.
Ayya and his compassion and celebration for the chess-players:
Dr.N.M used to celebrate the achievements of chess players every time by arranging felicitation fuctions and honoured them with cash awards / mementoes, which would be followed by High Tea or Dinner.  Ayya's compassion for chess players in distress was phenomenal and he once readily responded to a request from a Player from Andhra with a cash grant   towards an expensive surgery.   He also  helped  many  players  to secure good jobs. Whenever possible Dr.N.M used to visit the venues of National Championships viz Bhilai, Bikanar, Cochin, Bangalore, Trichy, Kanyakumari, Sivakasi etc, encouraged the players personally and ended the day with a dinner along with them.
Ayya and the birth of a Chess Superstar:
The oldest chess association in India, Coimbatore District Chess Association apart from creating huge stars in the country, also paved way for Vishwanathan Anand to become a Grand Master – the five time World Champion. When Tamil Nadu Chess Association organised the Mariammal Mahalingam ( the Trust started by Dr.N.M on the occasion of his 60th Birthday)  FIDE Rating Chess Tournament at Coimbatore in 1983,  one of the players, who was  sent to this First FIDE rating from that event was none other than Viswanathan Anand.  Four years later when TNCA organised the Sakthi Finance (Dr.N.M's Group Company) Grand Master Tournament at Coimbatore in December 1987, Anand accomplished his third and final Grand Master norms became a Grand Master India's Super Star of today.  Ayya has always envisioned Anand to be a shining star of chess and supported him in all his endeavors. They both maintained a mutual-understanding relationship with each other and have been spotted at many of the events together.
Carrying Forward the Torch:
Ayya carried forward his passion for chess upto his last days. He had a chess set in the drawing room of his bungalow at Chennai as well as in Pollachi and he used invite friends for Dinner and played chess with them.  And Dr.N.M.Chess Academy built in his memory in KCT aims to serve the same values that Ayya done across his life-time.
Dr.N.Mahaligam Chess Academy
Dr.N.Mahalingam Chess academy is instituted in KCT to honour the Arutchelvar Dr.N.Mahalingam, who was one of the significant personalities who strived to build the ecosystem and significance for game of chess in India. The Academy is located in the East wing of Administrative building in KCT campus.
Dr.N.Mahaligam Chess Academy
KUMARAGURU COLLEGE OF TECHNOLOGY
Saravanampatty,Coimbatore,
Tamil Nadu 641049.