International Master Chess Coaching Camp (NMCA) at KCT by Dr. N. Mahalingam Chess Academy  between 19 to 24 November 2018. International Master Venkatachalam Saravanan. Calculations, Decision making, Combinations, Tactics, Positional understanding, Analyzing own games and Grandmaster games are the training areas of this camp.
Contact no: 9600415608, 9943612375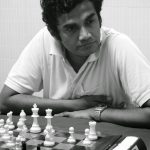 IM Saravanan has been an active chess player in the Indian circuit, and has been consistently writing on chess since the late 1980s. His reputation as an instructor is no less than his reputation as a player. He is a complete chess professional and he reports on chess tournaments, occasionally being a correspondent to national newspapers, news channels and Chessbase India.