Camp for Coaches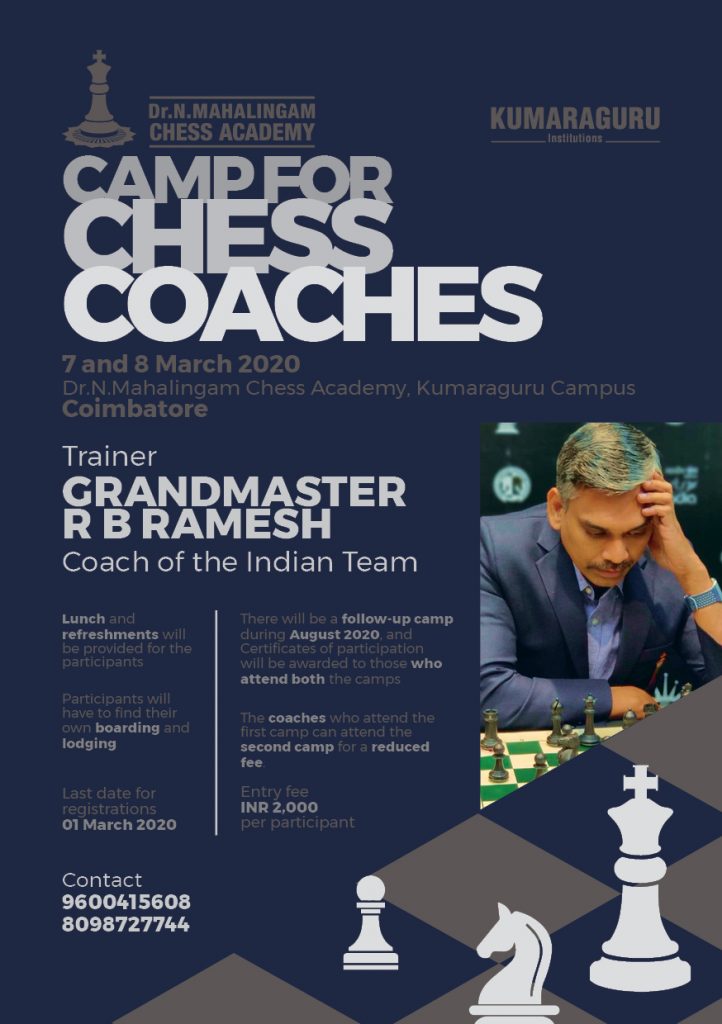 Dr.N.Mahalingam Chess Academy has a vision of being a Knowledge Center for spreading the game of Chess, producing medal winners for the country, creating awareness about the benefits of playing chess on mental faculties particularly for success in academics, and helping Chess coaches to have a comprehensive knowledge on development of chess skills and personality in their students. The current training camp by Grandmaster R.B.Ramesh will be an important part of our initiatives in that direction.
Ramesh is currently one of the finest coaches in the world, being captain of the Indian Team for about a decade, and producing best of the talents in India who have become Grandmasters, medal winners in international competitions and have gone on to become part of the Indian team. There are almost no top players in India who have not been trained by him at some point in their career.
The camp will be held on 07th and 08th March 2020, at Dr.N.Mahalingam Chess Academy, Kumaraguru College of Technology campus, Chinnavedampatti, Saravanampatty, Coimbatore, Tamil Nadu 641049.
A follow-up camp will be conducted by the Academy during August 2020, enabling the coaches to apply the systems and practices advocated by Ramesh at this camp during the intermittent period. This periodical contact will enable them to fine-tune their coaching methods and attend the subsequent session at a higher level of knowledge and clarity, and enable them to progress to even advanced levels of coaching.
Active Chess coaches of all levels are encouraged to attend the camp.
GM Ramesh will be focusing on the following areas during the Camp for Chess Coaches:
Benefits of playing Chess
Challenges of trainers and how to address them
Teaching openings: Importance of opening principles
How to work on improving calculation
Own game analysis
Learning from Classical games
Classifying the middlegame into Dynamic and Static positions
Theoretical and Practical endgames
Psychological and training issues
Thinking priorities in chess learning
Chess boards and sets will be provided at the tables for participants during the sessions. Coaches are advised to bring their laptops for personal use during the sessions.
Session timings (Both days)
              10.00 AM – 01.30 PM – First Session
              01.30 PM – 03.00 PM – Lunch at the KCT Campus
              03.00 PM – 06.00 PM – Second session
(The evening sessions may get extended if necessary. Refreshments will be provided at 15-minute breaks during the sessions)
REGISTRATION
The registration fee for the two day camp is INR 2,000
The last date for registration is 01 March 2020
Registrations are limited to 40Nos on first come first serve basis
The participants of this camp will be given a fee reduction for the follow up camp on August
The participants can pay through NEFT or Gpay
After completing the money transfer please fill up the form and complete registration
The amount can be sent via Gpay to the numbers 96004 15608/ 80987 27744
Bank account details for NEFT transfer
           Account Name            : Dr. N. Mahalingam Chess Academy
           Account Number       : 1245.155.000079227
           Bank                             : Karur Vysya Bank
           Branch                         :  Coimbatore saravanampatti (KCT campus)
           IFSC code                    :  KVBL0001245
ATTENTION
Recording or relaying of the sessions in any format is strictly prohibited
Outstation participants will have to make their own arrangements for stay at Coimbatore. We can help you find suitable accommodation nearby if you contact us in advance
Participation certificates will be awarded to those who attend both the camps
Kindly note that KCT is a non-smoking campus. Kindly co-operate with us in maintaining the cleanliness and decorum of a respected institution
No such form exists in Database.