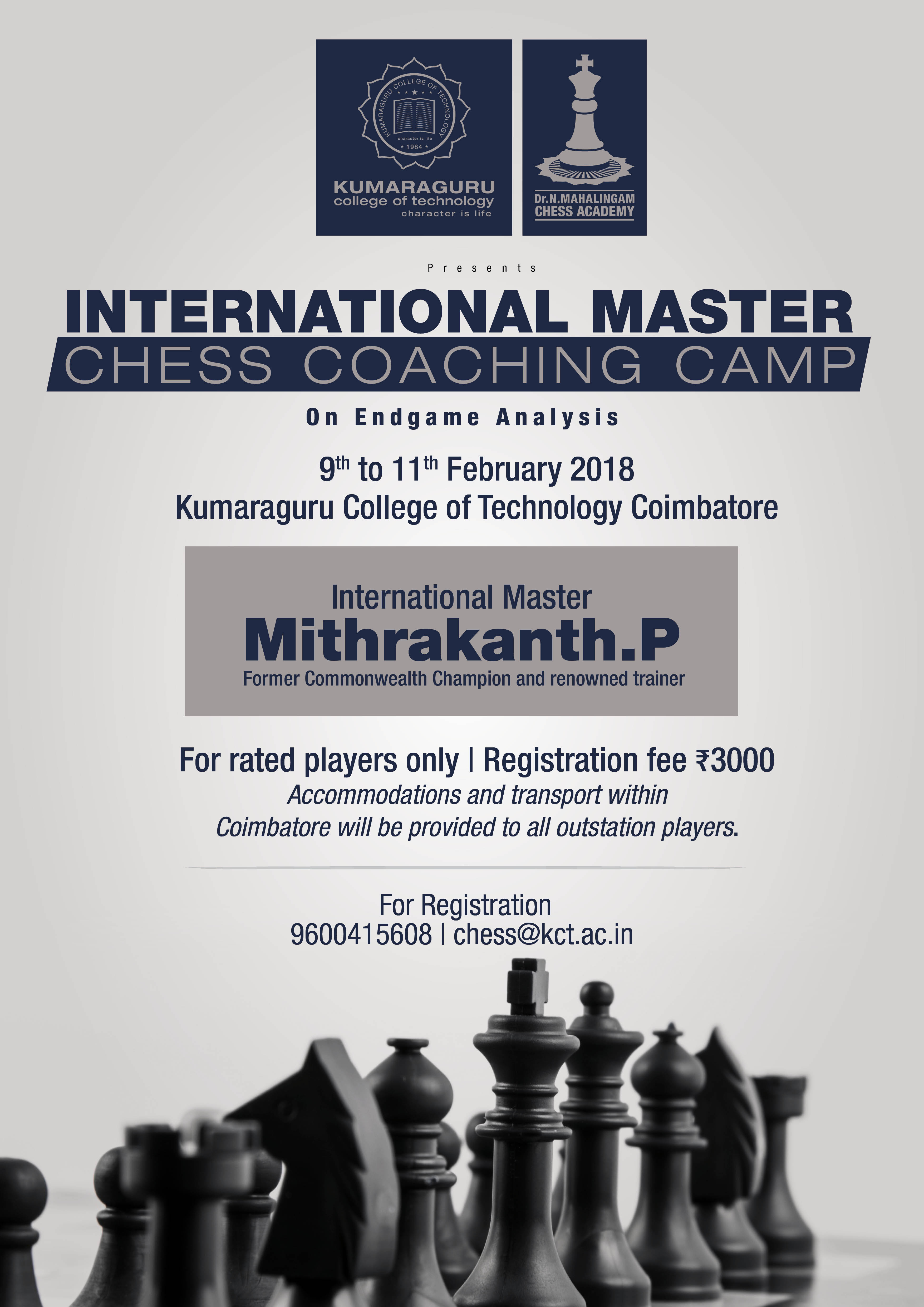 An opportunity to sharpen your endgame tactics!
Dr. N. Mahalingam Chess Academy serves as a prominent hub for the Chess enthusiasts and professional players to excel in the game of Chess. The aim of the academy is to encourage the budding Chess champions by conducting various formats of tournaments at various levels and to mentor, develop, motivate and enhance the skills of the students to win prizes and awards in the National and International Chess tournaments. NM Chess Academy organizes 'IM coaching camp' in the month of February, 2017 to sharpen the endgame tactics of chess players who are well versed in the opening and middle games but fails to concentrate on their endgame.
As we grow older, our opponents begin to get stronger. It isn't simple anymore to display supremacy within the first 30 moves. In higher levels, people usually have fairly solid opening base and have probably spent several hours studying early middle game positions. So the game is dragged into the endgame phase. This is one of the most important phases in chess. This is because, while it's possible to make a comeback from mistakes made in the opening and middle games, it's almost impossible to make a comeback from mistakes made in the endgame as they are usually the last mistake made in the game. It's also an area where we can score a lot of points, as it's usually one of the phases less studied by our opponents. So, this camp helps the participants to get trained in facing that crucial phase and play better.
IM Mithrakanth,
The trainer of this camp, is a reputed International Master who has won the commonwealth championship in 1996. He is also reputed to be an excellent trainer who has conducted many coaching camps in the past. He is currently the Sports Manager of NLC.
International Master coaching camp
Dates             : 9th and 11th February 2018
Topic             : Endgame Analysis
Entries          : 15 to 20 members.